Rob Zombie's Great American Nightmare
Blogger Jill Kill shares an Inside Horror look at Rob Zombie's Great American Nightmare coming October 10th through November 2nd to the Pomona Fearplex. This spook-tacular event features 3 cutting edge haunted mazes: The Lords of Salem Total Blackout maze (you literally get kidnapped by the devil and all the lights go out), The Haunted World of El Superbeasto (a psychedelic 3D experience), and Haunt of 1000 Corpses (which recreates the murder ride from the film – featuring a number of famous murder scenes). There are also bands playing every night, an outdoor horror movie theater/beer garden, and various other entertainers and zombies scaring you on the concourse.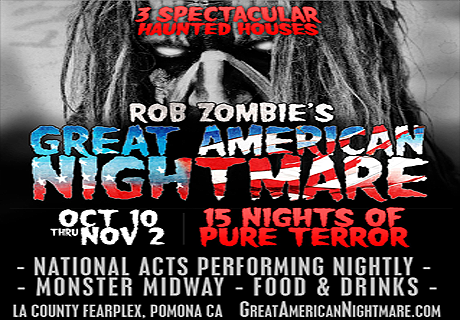 Inside Horror Bonus
You May Also Like...