Inside Horror Rocked the Boat with JAWS' Carl Gottlieb
---
Hello, friends! Stacy Buchanan here, and oh man, did I pick a great week to join the Inside Horror crew.
In this week's episode, Elric and Staci sat down with screenwriter Carl Gottlieb, the very charismatic mastermind behind JAWS I, II and III. His presence brought out a whole slew of great 'I don't go in the water anymore' stories from the Inside Horror crew as well as the audience. Of course that's also the first thing that Gottlieb hears when meeting fans — their stories of a new found fear of the water. He knew that while writing the movie, his work wouldn't be done until viewers were afraid to take a shower. Brilliant!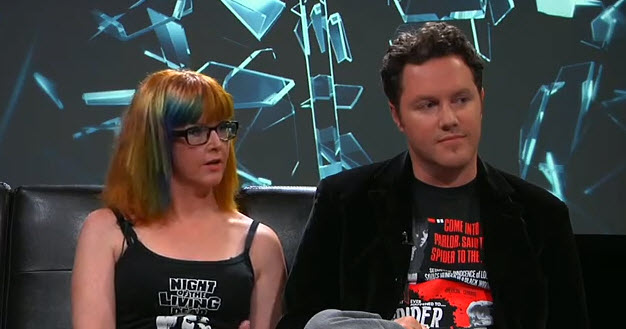 And I learned an interesting fact in last night: after the release of JAWS, the shark population dwindled as the species became over-fished. Considering I live less than an hour from Martha's Vineyard, where the film was shot, I did some research and was pleasantly surprised to find out that local JAWS enthusiasts fully support shark conservation as a part of their annual Jaws Fest, an official festival dedicated to the film.
Gottlieb also discussed his book Jaws Log, his involvement in the sequels: JAWS II and III, and shared some absolutely fantastic stories about the infamous difficult production rumors behind the films — really just a fascinating and informative interview.
In honor of last night's theme: Terror at Sea, the Inside Horror crew shared their favorite deep sea scares. Turns out Elric's got a soft spot for Leviathan, and Peter Weller's unforgettable movie ending line. For Staci, it's The Abyss, and James Cameron doing what he does best: telling an epic story through characters. Rebekah favors the very Lovecraft-ian feel of Dark Waters as well as Dagon, also Lovecraft-inspired, which she applauded for its amazing effects — weird fish people alert!
My personal favorite happens to be the one most mentioned by the audience last night: 'The Raft' in Creepshow 2. I'm so scarred by it that not only do I mention it at least once a day (thanks for helping me fill my quota today, by the way), I haven't been in a lake in over 20 years.
That's right lakes, take note — we are never, ever, ever getting back together. I also have to give a nod to Ghost Ship. I mean, that opening scene, am I right?
Last night's theme wrapped up with a group review of the latest edition to the killer shark sub-genre: Bait 3D, and it sounds like we can add this one to the viewing queue.
In other horror movie news, Staci reported back positively from two advanced screenings: Hotel Transylvania and Looper, Elric sported his favorite Spider Baby shirt in honor of an upcoming viewing of the restored film, and the expectant Rebekah shared her 'mother-to-be' horror picks for the week.
She also gave an early two-thumbs up for one that I can't wait to watch, Sinister, and talked about a must-see vampire flick for Viggo Mortensen fans, Reflecting Skin.

Miss the live show? Fear not – the on demand version is available now at youtube.com/thestreamtv.
Check it out to find out what Elric, Staci and Rebekah thought of the highly anticipated Texas Chainsaw Massacre 3D trailer and Universal's Halloween Horror Nights mazes, what Fearnet Vlogger Drew Daywalt's most significant horror film pick is, how to get an autographed picture from Dread Central's  2012 batch of Horror Starlets Bowling for Boobies event, and what people are saying about Tim Burton's Frankenweenie.
And be sure to tune in next week when the Inside Horror welcomes Sinister director Scott Derrickson and  David Bruckner, one of the directors behind 2012's little darling, V/H/S.
Inside Horror airs Tuesdays at 7pm PT, 10pm ET. Visit thestream.tv/inside-horror for more information, and for additional perspectives follow the team on Twitter at @InsideHorror and Facebook at facebook.com/InsideHorror.
—
Stacy Buchanan is a Boston-based digital marketer, freelance writer and life-long horror fan. After spending over 20 years studying special effects makeup and cinema, she's also a full-time film buff, and produces content for numerous websites. Follow her on Twitter at @StacyJJBuchanan.
...