Inside Horror Goes to Hell and Swims with the Sharks
---
Hello, Horror Fans! Staci Layne Wilson here, your host — along with Elric Kane and FANGORIA's Rebekah McKendry — of Inside Horror on theStream.tv… season 3! Yep, we've just kicked off another great series for you to enjoy (and us… we love doing this show, especially meeting some of the coolest genre filmmakers on the planet and interacting with you guys. We had hundreds in the chat room to talk to Darren Lynn Bousman and Terrance Zdunich, the twisted minds behind "The Devil's Carnival" and, a few years back, the cult sensation, "Repo! The Genetic Opera."
In this week's episode, Elric, Rebekah and me revealed our own favorite cinematic depictions of hell (his was Bergman's Hour of the Wolf, hers was Anderson's Event Horizon, and I chose Fulci's The Beyond), and asked our guests the same — you'll have to tune in to episode to find out what they said… not to mention the funny and slightly naughty story about Devil's Carnival actor Marc Senter.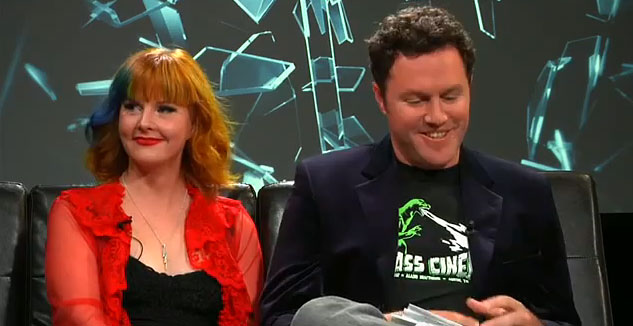 Next week, on the September 25 show, we welcome Carl Gottlieb, screenwriter of the classic animal attack film, Jaws. Jaws fans are celebrating the advent of the film on Blu-ray, plus Carl's new book, The Jaws Log (revised). Tune in for your chance to win a copy!
Be sure to check out more episodes here and on YouTube.
Inside Horror airs Tuesdays at 7pm PT, 10pm ET. Visit thestream.tv/inside-horror for more information, and for additional perspectives follow the team on Twitter at @InsideHorror and Facebook at facebook.com/InsideHorror.
...