JAWS, Carl Gottlieb & Terror at Sea!
---
Be sure to tune in to INSIDE HORROR this week as hosts Elric Kane and Staci Layne Wilson welcome American screenwriter Carl Gottlieb, the mastermind behind JAWS, JAWS II and JAWS III.  They'll dive in with questions about how he got involved with film, his book JAWS LOG, an expose on the notoriously difficult production of the movie, and how he approached writing the sequels to one of the greatest films of all-time.
Elric and Staci will also chat about their recent experience at the infamous Universal Studios Halloween Horror Nights opening and annual Eyegore Awards, and review the latest killer shark sub-genre film Bait 3D. And later, Fearnet.com vlogger, and creature-genius, Drew Daywalt will stop by to chat about horror movies that are most significant to him.
And giving an update on the latest horror news will be FANGORIA's own Rebekah McKendry. She'll discuss this year's Fantastic Fest, early reviews for Tim Burton's highly anticipated FRANKENWEENIE, rumors about Marcus Dunstan's THE COLLECTION, anticipated to be a gorier version of his 2009 film, THE COLLECTOR, THE TEXAS CHAINSAW MASSACRE 3D trailer reactions, and Dread Central's 2012 batch of Horror Starlets Bowling for Boobies event at Dark Delicacies on September 30th.
Rebekah will also be taking your questions and comments on youtube.com/thestreamtv and on Twitter at @InsideHorror. Join the conversation: TheStream.tv/inside-horror. #302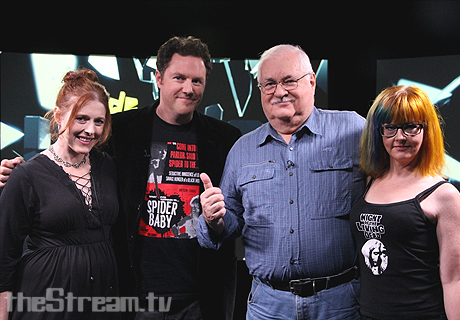 ...