Alexandre Aja, Nick Simon & Mark Kelly – Inside Horror
---
There was high tension on the set last night, as technical glitches threatened to black-out our show! No, there wasn't. It was more like high anxiety. If only Mel Brooks were our guest. But we had someone even better! Or at least, more French. I kid: I adore Alexandre Aja, so it was a real pleasure to have him come on set for our show, INSIDE HORROR. (Our darling chat-booth pixie, Jenna Busch, warmed up the viewers beforehand, but due to our late start we had to ax the news segment — rest assured, the new female Ash has been cast, there is an INSIDIOUS 2 in the works, and Eli Roth is dating Selina Gomez. No, I think I got that last story wrong — but there IS a Bear Jew and Wizardess of Waverly Place connection; go to http://dreadcentral.com for the full stories.)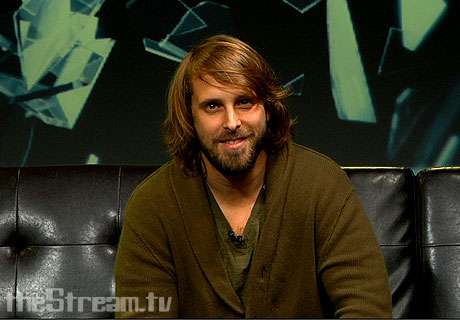 I have been getting the spooky stories from Alex for years now, but it was Elric's first time to meet the director of one of Elric's favorite horror movies of the past decade, HIGH TENSION (see how I tied all this together? Amazing). HIGH TENSION really reinvigorated the genre and was the first wave in the tide which drew us away from the self-reverential, more comedic horror movies, and Alex talked to us about this, as well as the movie's still very divisive ending. He also shared stories with us about growing up as the son of a prolific filmmaker and how that shaped his own career. We also delved into the supernatural with a look at his ghost story MIRRORS, talked about tackling masterpieces in the form of remakes, and asked him what he thought of John Gulager's upcoming take on PIRANHA 3DD (and what it's like, in general, to see other directors take on sequels of your remakes… it's all so incestuous!).
Alex's segment segued into our next guests, Nick Simon and Mark Kelly, the director and star of an indie thriller new to DVD, REMOVAL. (Alex and Nick are working together on a project called Site 146.) I reviewed Removal for horror.com (http://www.horror.com/php/article 3757-1.html), and Elric told me about the movie in the first place, so we are both fans. Billy Burke and Oz Perkins costar along with Mark, and Mark talked about how they formed their 'unholy trinity' of madness in regard to pulling off such mind-bent characters. Check it out, it's on DVD now. Or, you can just like us on Facebook and tell us what your favorite mind-bending thriller is, and you will be eligible to win a copy.
Tune in to INSIDE HORROR next week (Tuesday, February 14 at 7 p.m. PST, 10 p.m. EST) when we'll have actor Michael Biehn on to talk about THE DIVIDE, THE VICTIM, and maybe we can even get him to reminisce on ALIENS or (my fave!) TOMBSTONE.
Visit thestream.tv/inside-horror for more information, and for additional perspectives follow the team on Twitter at @InsideHorror and Facebook at facebook.com/InsideHorror.
...